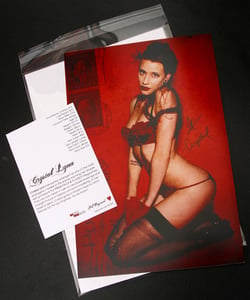 $

20.00
In this latest series of limited edition prints, Pin Up Originals, photographer Adam Ramirez utilizes the initial photographs used to create Pin Up Players.
This modern throwback to vintage photography is printed on the finest archival paper assuring preservation through those golden years. Each print comes with a Certificate of Authenticity & Bio card for each corresponding model.

"Pin Up Originals: Crystal Lynn"
Size: 8" x 12"
Signed and Numbered Edition of 20.
Comes with Signed and Numbered COA.
Includes Limited Edition Bio Card
$20 + shipping
Ships in 2-4 Weeks.